Dear Club Secretary,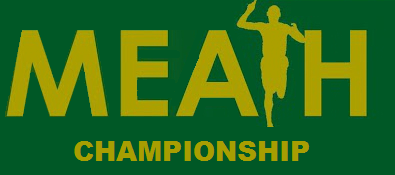 Enclosed please find entry forms for the Meath Track and Field Championships 2019,
Venues & Programmes
Please note the following information regarding the competition:
· All athletes must be registered with both Athletics Ireland and Meath Athletics.
· Entry forms to be accompanied by the names of a minimum of three (3) officials nominated by your Club for each of the competition days.  Please include contact information for officials, as the office will be sending out information to them in advance of the Championships.  Nominated officials will have free admission to the Meath Championships day at which they are officiating but must be available for the duration of the complete day's events.  Entries will only be processed for your Club on receipt of this information.
· U17 and U18 athletes compete as U18's except where weights, heights or distance are different.
· U19 and U20 athletes compete as Juniors.
· U9's-U11's can only compete in 2 events per day
· U12's –U18's can only compete in 3 events per day.
· As usual all masters throwing events are decided by using age graded tables.
· In track competition an athlete competes in declared category in the case of junior, senior and master competition. In the event of age categories being amalgamated with the Senior event the best 3 performances will be deemed to receive the 1st, 2nd and 3rd place Senior medals respectively. 
· All Discus Championships taking place in Fr. Murphy AC with the Hammer & Weight for Distance Championships on Saturday April 27th.
· All Javelin Championships taking place in Cushinstown AC as part of their Open T&F Sports on Sunday 28th April – see Cushinstown Open Sports Programme  for start times.
· There shall be 6 throws in hammer and discus (3 Throws and the top 8 get a further 3 throws) for all ages except masters who shall only have a total of 4 throws. 
· There shall be only 2 trials in the U9, 10 & 11 long jumps.
· U9, U10 & U11's will jump from the sand. U12's and older must be able to jump from the board – a minimum of 2.5m
· Athletes must be technically competent in the event they are attempting.  In the interest of the welfare and safety of the athletes, please do not enter them in events that they are not familiar with.
· Standards will apply in all field events.
· Athletes are confined to events in their own age group, except for the relays where they may move up one age group.  Juvenile athletes may not move up an age group in order to compete in Under 9 competition
· The juvenile programme may be altered at the discretion of the committee.
· Club singlets should be worn where possible.
Closing Date for entries:
Day 1 Monday 22nd April with late entries until Friday 26th April at 1.00pm;
Day 2 Monday 29th April with late entries until Thursday 2nd May at 1.00pm.
Day 3 Note that entries for Day 3 the hurdles should be emailed directly to Maggie Higgins This email address is being protected from spambots. You need JavaScript enabled to view it. by Friday 4th May;
Day 4 Monday 6th May with late entries until Thursday 9th May at 1.00pm
Day 5 The Relays entry is on the night. 
There will be no late entries accepted on the day of competition except for Day 5 . This rule will be strictly enforced on the day. 
Late entries will incur double entry fee. 
Championship Entry Fees:
Juveniles & Juniors €1 per event, Senior & Masters €2 per event but where a Junior, Senior or Masters Championships are part of either the T&F League Nights or Cushinstown Open Sports they just pay at the gate.
· Gate Admission €5 per family, juveniles free. 
· Venues & Programmes
· Health & Safety Rules require that only competing athletes and officials will be allowed inside the arena.  All athletes must leave the arena after their event.
· All monies due to the County Board must be paid before entries will be accepted for the T&F Championships.
Appeals
Any appeals, accompanied by a fee of €20.00 (refundable in the case of a successful appeal) must be submitted in writing within 20 minutes of the finish of the event to which they refer.  Only Officers of the Club(s) concerned may submit appeals.
All appeals will be dealt with on the day. The ruling of the Appeals Committee shall be final.
The Appeals Committee shall, in the first instance, be composed of the County Chairman, the County Secretary and the County Competition Secretary.  In the case of a conflict of interest on any particular matter an alternate shall replace the conflicted member(s) for the determination of that issue.  The alternate(s) shall be Maggie Higgins (Na Fianna AC).  In the event that any member/alternate of first instance is unavailable on the day of competition they may be substituted by the County Vice Chairman, the County Treasurer or the County Registrar, or such other county officers as are present on the day, as appropriate.